Ich hatte das große Glück dieses Jahr in die USA auf das Trackfest der United Blood Trackers nach Berne, NY zu fliegen und dem geballten Wissen vieler Nordamerikanischer Nachsuchenführer zuzuhören. Einen großen Dank an Jolanta und John Jeanneney für die Einladung und die tolle Zeit! John Jeanneney hat mit seinem immensen Wissen viele Nachsuchenführer angelernt und steht für den Anfang der Schweißarbeit in den USA! Ich bin unendlich glücklich Zeit mit Jolanta und John verbracht zu haben. Es war ein wundervolles Erlebnis euch von meinen Nachsuchen-Erfahrungen berichten zu können.
Weiterhin konnte ich viel neues Wissen über "riemenlose" Nachsuche, sowie die reine Riemenarbeit durch sehr erfahrene Nachsuchenführer wie Randy, JJ, Alan, Darren, Susanne, Larry, Cheri, Andy und vielen weiteren lernen!
I had the immense pleasure to meet many fellow trackers this year at the Trackfest in Berne, NY! A very big thank you to Jolanta and John Jeanneney for the invitation and the great time I had there! John Jeanneney is THE icon for blood tracking in the US and has helped many trackers on their way to become successful! I felt so honored and privileged to meet Jolanta and John and to spent some time with them! I am more than happy that I could share my tracking experiences with so many!
I took many memories, stories and knowledge home. Furthermore I had the chance to learn about the different american tracking styles form very experienced trackers like Randy, JJ, Alan, Darren, Susanne, Larry, Cheri, Andy and many more. I also got to meet so many nice people! I am still thrilled by how wonderful every single person I met was!
A big thank you to everybody that has been there! You made my trip to the USA unforgettable und wonderful!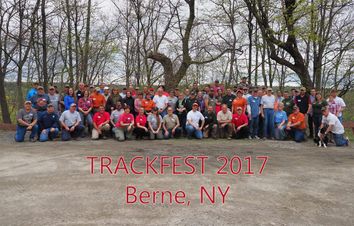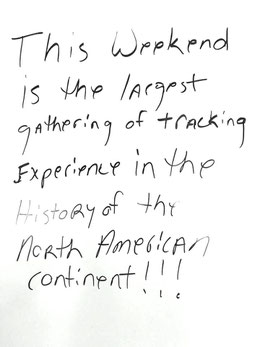 Pictures by Cliff Shrader and Jolanta Jeanneney. More pictures can be found on their facebook page